OUR STORY: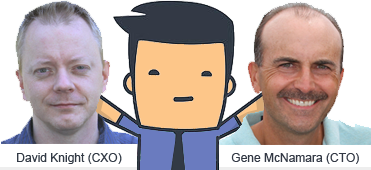 BIPTrack co-founders, David Knight and Gene McNamara, have been creating technology solutions and writing software for more than twenty years, so when Dave began receiving hand-written and often hard-to-read copies of daily notes from his son's ABA team and watching therapists lug around huge binders of paper, he knew that collecting and managing data electronically would dramatically improve the process. He asked his son's BCBA from
Applied Behavioral Strategies (ABS)
if her agency had tried any software solutions. She said that they had tried several products, but they found all the software to be too rigid or too complicated. One product they tried was not smart enough to account for a client's environment, which resulted in skewed data. They needed software that is easy to use, is flexible enough to create custom programs for their diverse client base, and collects accurate data across all settings. ABS had been so disappointed with the limitations of the different products they tried that they abandoned the idea of an electronic solution and went back to paper.
After hearing about the pitfalls of the other products, Dave and Gene knew that their team at Dactyl Technologies could create a software application that would make the processes of collecting and analyzing data more efficient and more effective, saving the behavior therapists valuable time and energy. Dave and Gene worked closely to with the exceptional BCBAs at ABS to create BIPTrack, which solves the shortcomings of the other products that ABS tried and is flexible enough to adapt to any situation. BIPTrack simplifies data collection, skill program instruction, and reporting processes for behavior analysts, teachers, and parents. It combines intuitive tools into one comprehensive portal where users collect, analyze, and report on behavior and skill acquisition program data in real time. ABS piloted BIPTrack with Dave's son and liked it so much that they quickly began using the software with all of their clients.
Many of our team members have children or family members on the Autism Spectrum, so we understand the importance of secure, comprehensive communication between every member of a client's team and the importance of accurately collecting and analyzing data. We are continually working with our clients and our Advisory Board to add new features and to keep BIPTrack on the cutting edge of our users' evolving needs.